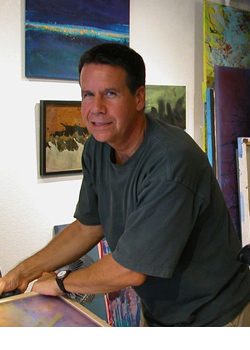 For the next seven years, he traveled extensively and painted as he decided on his next career move. In 2007, he accepted a position as director of client services for a prominent digital marketing firm in Fort Lauderdale, FL. He traveled to and represented Caribbean destinations and luxury resorts to the world.
This combination of travel and graphic design has uniquely positioned Callahan to establish himself as an important painter with considerable skills and knowledge. The titles of many of his paintings are named for the exotic places where he has found his inspiration. He has remained true to his earliest training with paintings that have the energy of Pollack, but with uniquely Callahan control.
In 2013, Callahan returned to Georgia and set up a studio in Decatur. He now paints full time. You can see his work at Reinike Gallery.