High Museum (Atlanta)
Michael C. Carlos (Atlanta)
NOMA (New Orleans)
Historic New Orleans Collection (New Orleans)
Louisiana State Museum (New Orleans & Baton Rouge)
The Metropolitan Museum of Art ( New York)
National Gallery (Washington D.C.)

-the greatest free show on earth

-part of the National Gallery and home of Whistler's Peacock Room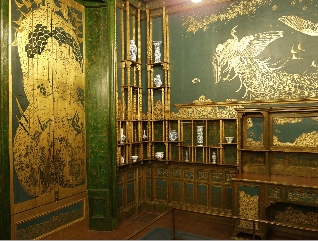 Decorating or Collecting Art? Why Not Do Both!
Television home decorating shows sometimes show people going out and finding odd pieces of metal or adding some paint to a canvas to match the colors in a room. It is a nice way to make an area harmonious, but original art can add so much more.
Fine art is a dialogue between artist and collector. It is a gathering and sharing of ideas. When you visit a museum and see a painting by Michelangelo, or Degas or Rauschenberg you are seeing the same object they saw. The artist was touching it , manipulating it, and thinking about it. You share that time with the artist. There is a direct connection that is greater than just the image. It is a greater connection than even a reproduction of the work can provide.
The works in museums rarely become available to individuals. Those works may once have been owned by private collectors but now they are preserved for the appreciation and enlightenment of many viewers. Original works by contemporary artists in art galleries are the works that will be in museums someday. Those are the works you can own, now. Those works, too, provide that direct connection and sharing with the artist and the collector. In fact, when the collector buys a work, he makes it possible for the artist to continue to create new works and to explore new ideas.
When you buy original art, you are selecting works that express your ideas. You can find work that expresses fun and humor, hope and desire, or comfort. What you choose and put together is your personal expression.
The appreciation of art will come with experience. All collectors start as beginners. An analogy is an avid sports fan who spends years learning about baseball. He studies the techniques, the statistics and the players. It all makes for a more entertaining game when he watches his team play.
Go to galleries. Go to museums. You can even try your hand at creating an artwork. Maybe you will want to take an art class. As with anything else, the more you know about art, the more you will enjoy it. Look with your mind engaged. Ask questions. It will open a whole new world for you.
By TED LOOS
Published: October 22, 2009 The New York Times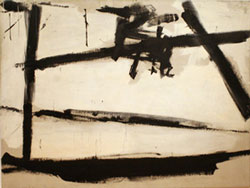 Franz Kline's "Painting Number 2," one of the works
now being exhibited without a frame.
At MoMA, 'Permanent' Learns to Be Flexible
The European tourists, students with sketchpads and others who throng the painting and sculpture galleries of the Museum of Modern Art every day may not notice anything out of the ordinary in Room 19 on the fourth floor, but visitors who know the place and its paintings well surely do. The walls are still arrayed with large canvases by Abstract Expressionist masters like Willem de Kooning and Franz Kline, but where once these works were surrounded by simple wooden frames, they now hang naked, their rough, paint-splattered edges and rusting staples on view to the world.
"It was convention to have the frames," Ann Temkin explained recently as she walked around the gallery and stopped in front of Kline's "Painting Number 2" (1954). That convention, Ms. Temkin felt, had domesticated the paintings in a way that obscured how radical they were, what a "profound break with the past," and last fall she ordered the frames removed in one of her first acts as the Modern's new chief curator of painting and sculpture.
"Now these strokes explode off the canvas," she said happily, pointing to Kline's signature black slashes. "It has a freedom now." (see the complete article)